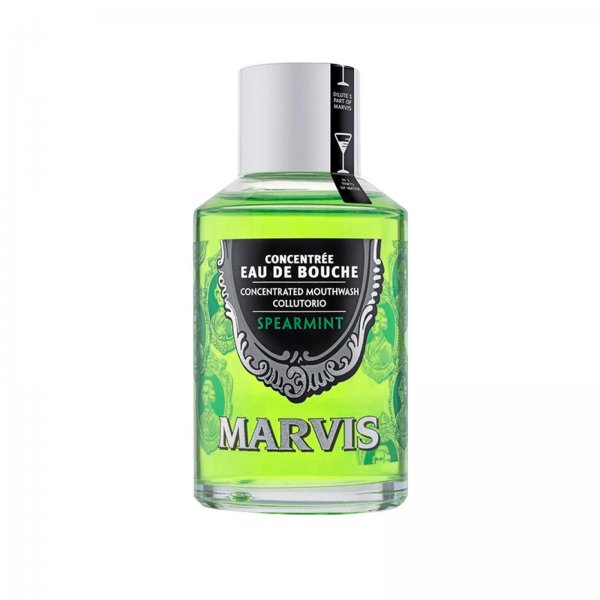 MARVIS MOUTHWASH SPEARMINT – 120 ML
Marvis Spearmint Concentrated Mouthwash energises and cleanses your entire mouth with a cool, sparkling mint sensation. Pleasurable for both teeth and gums, this long-lasting refreshing formula contains natural extract xylitol. It is formulated for good oral hygiene and fresh breath and a unique cleansing experience.
Sure to combat tooth decay, bacteria, and plaque, this concentrated mouthwash from Marvis is housed in a handsome vintage-look glass vessel. Imbued with a spearmint flavour, the Italian-made product promote healthy pH levels and fight tooth decay; while propolis combats inflammation, bacteria, and plaque for a uniquely delicious cleansing experience.
Spearmint is excellent for oral health. The antiseptic effect keeps bacteria levels under control and naturally freshens breath.
Dilute with water before use.
Mouthwash concentrate.
Designed to achieve fresh breath and deep cleaning of the teeth and gums.
Classic mint flavour and aroma.
Made in Italy.
Add to Wishlist

You may also like…